Alignment Tester
Brake Tester
Jack Stands
High Service Stands
Service Jacks
Trailers - Closed & Open





Trailex
Weaver Jack
Weaver Safety Lanes
Nationwide
Direct Shipping

888-274-8490

-
Weaver Hydraulic Jacks
2,4,10 & 20 Ton Models



Made In The USA
Since 1910

Scroll Down the Page for Pricing and Details
All Weaver Equipment is Manufactured in the USA
from Components Supplied by American Companies.
Where Are The Others Made? CLICK HERE
Weaver Jack Long Chassis Service Jacks for Heavy Duty jobs that Require Long Reach with up to Twenty (20) Tons of Lifting Capacity- Handles those Big Truck, Tractor Bus, and Heavy Equipment Jobs.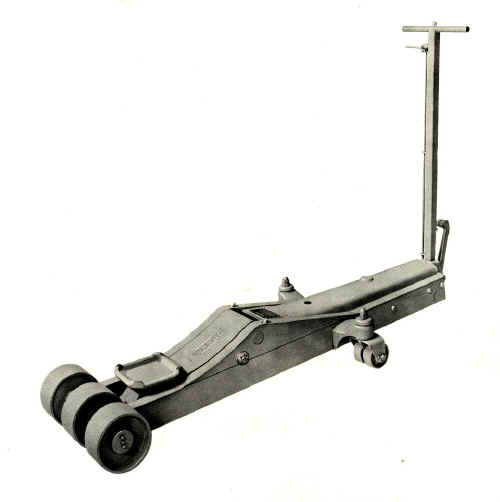 Weaver 20 ton Long Chassis Frame Hydraulic Service Jack Model WA-85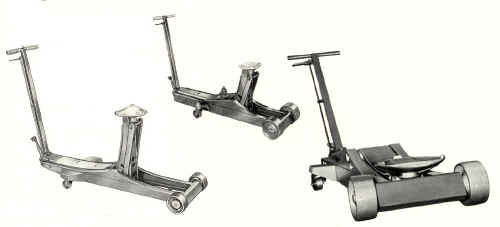 WA-72B (2 ton) WA-75B (10 ton) WA-73B (4 ton)
Tough & Rugged --Heavy Duty Weaver Floor Jacks Are Designed to Give You "Decades" of U
se and S
ervice

The Weaver Line of Long Frame Hydraulic Service Jacks uses a time proven design that has been tested in use for over 80 years. The design of this floor jack is elegant, yet simple. It is easy to use and easy to repair if service is ever required. It is not unusual for users to restore their jack to it's original operating condition merely by the use of a seal kit - even though they have owned it for over 70 years. This is a testimony to the Tough Rugged Construction of the Weaver Floor Jack.
Weaver Service Jacks
Low silhouette for easy positioning

Unique quick lift lever for fast approach of saddle to load

counterbalanced handle

Three position handle lock for easy maneuvering

Model
Capacity
(tons)
Saddle
Low
Point
Saddle
High
Point
Overall
Frame
Length
Handle
Length
Shipping
Weight
WA-72B
2
5"
25"
51"
39"
136 lbs
Model
Capacity
(tons)
Saddle
Low
Point
Saddle
High
Point
Overall
Frame
Length
Handle
Length
Shipping
Weight
WA-73B
4
5.5"
26.25"
58"
40"
212 lbs
Model
Capacity
(tons)
Saddle
Low
Point
Saddle
High
Point
Overall
Frame
Length
Handle
Length
Shipping
Weight
WA-75B
10
7"
25.5"
66"
40"
356 lbs
Twenty (20) Ton Weaver WA-85 Long Service Jack - 40,000 lbs of Lifting Power

Model
Capacity
(tons)
Saddle
Low
Point
Saddle
High
Point
Overall
Frame
Length
Handle
Length
Shipping
Weight
WA-85
20
7.5"
26.25"
69"
40"
531 lbs
PRICES
WA-72B Two Ton Service Jack is
DISCONTINUED

Weaver Jacks Come With a One year Warranty





copyright 1997-2014
Castle Equipment Co.

| |