Alignment Tester
Brake Tester
Jack Stands
High Service Stands
Service Jacks
Trailers - Closed & Open





Trailex
Weaver Jack
Weaver Safety Lanes
Nationwide
Direct Shipping

888-274-8490

WEAVER SAFETY INSPECTIONEQUIPMENT
AUTOMATIC BRAKE TESTERS


Made In The USA
Since 1910
All Weaver Equipment is Manufactured in the USA
from Components Supplied by American Companies.
World's most widely accepted and used Brake Bester.

Literally Millions upon Millions of Vehicles have been tested by the Weaver Brake Tester. No other brake tester matches Weaver's number of brake tests performed.

Braking imbalance shown at a glance

Instantaneous testing

Tests large or small vehicles

No complicated electronics or hydraulics

Rugged, trouble-free construction, performance-proven in thousands upon thousands of inspection lanes
WEAVER MODEL WY-400 BRAKE TESTER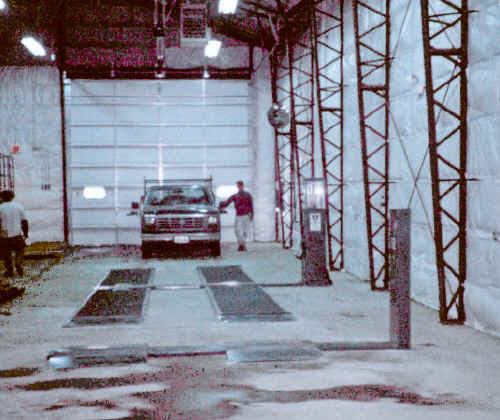 Model WY-400 Brake Tester Shown with companion Alignment Tester
Class "C" Truck & Bus Safety Lane

Brake Tester Tower Front View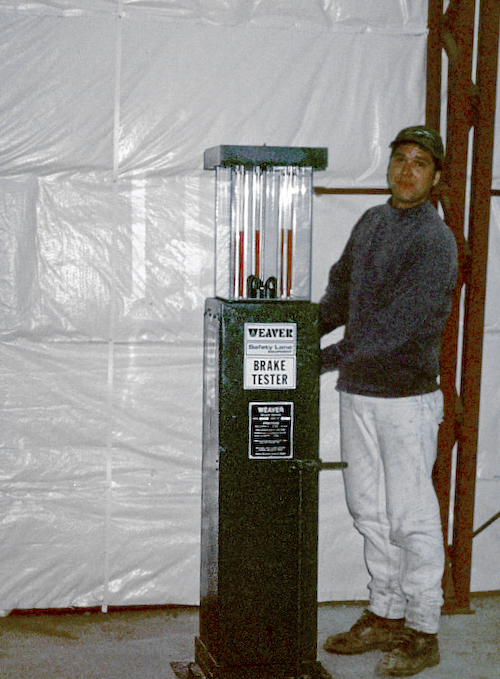 WY-400 Brake Tester Tower
Simple, fast reading. Liquid level in tubes show braking ability of each wheel with a fifth tube for total braking effort. Detect low, unequal or unsafe braking conditions at a glance.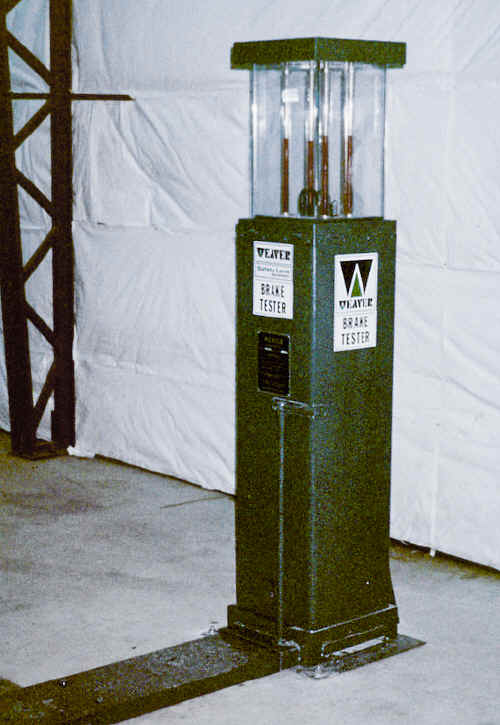 Brake Tester Tower
Model WY-400 Brake Tester mounts to the surface of the inspection lane. It has a drive over capacity of 32,000 lbs. It has two testing settings: Light for vehicles up to 7500 lbs and Heavy for vehicles up to 32,000 lbs.
| | | | | | |
| --- | --- | --- | --- | --- | --- |
| Model | Capacity | Heavy Range | Light Range | Length | Width |
| WY-400 | 32,000 | 0 to 32,000 | 0 to 7,500 | 28'-5" | 12'-6" |
Some might say - "I need a High Technology Brake Tester. " Weaver believes that PROVEN TECHNOLOGY IS SUPERIOR to high technology. Why? Field Proven for almost a Century, with no complicated electronics or hydraulics, the Weaver Brake Tester is Rugged, Reliable and Tough. It can be serviced and repaired by your own mechanics, not requiring expensive outside technicians. The cost of maintenance of a computerized system can exceed the equipments original cost many times over. Weaver Brake Testers have been subjected to extreme service conditions for decades, and still meet their original specifications. When water, snow, mud, gravel, and other debris drip off the test vehicle onto the Safety Lane, it can easily degrade electronic sensors. Time Proven, the Weaver Brake Tester can stand up to all those conditions - They have even been installed outdoors exposed to the elements.





copyright 1997-2014
Castle Equipment Co.

| |